Here are some of my favorite gift ideas for West Highland White Terrier owners or lovers. If you have a friend or family member that is a Westie owner or enthusiast then these presents will go down a storm.
Women's Westie T-Shirt Gift Ideas
T-Shirts with a Westie themed logo or picture would make a fantastic gift. I love the blue Tee featured in the middle here with the words "If I Can't Bring my Westie I'm Not Coming". As a Westie owner, I totally understand the sentiment.
Women's Westie Terrier Dog T Shirt Large Slate
Men's Westie T-Shirt, I love my Westie Medium Royal Blue
Fluffy Butt Westie Women's V-Neck T-Shirts by KiniArt Small Black
&
Men's Westie T-Shirt Ideas
Here are a selection of men's Westie T-shirt any Westie owner is going to love. Of course every Westie has their own team of carers, so the black t-shirt is just right!
Men's Pampered Westie Dog's Service Staff T-Shirt Medium Royal Blue
Westie Dog T-shirt Animal Lovers Shirts Small Navy 
Westie Lifetime Member Novelty Men's Short Sleeves Black Cotton T-Shirts
&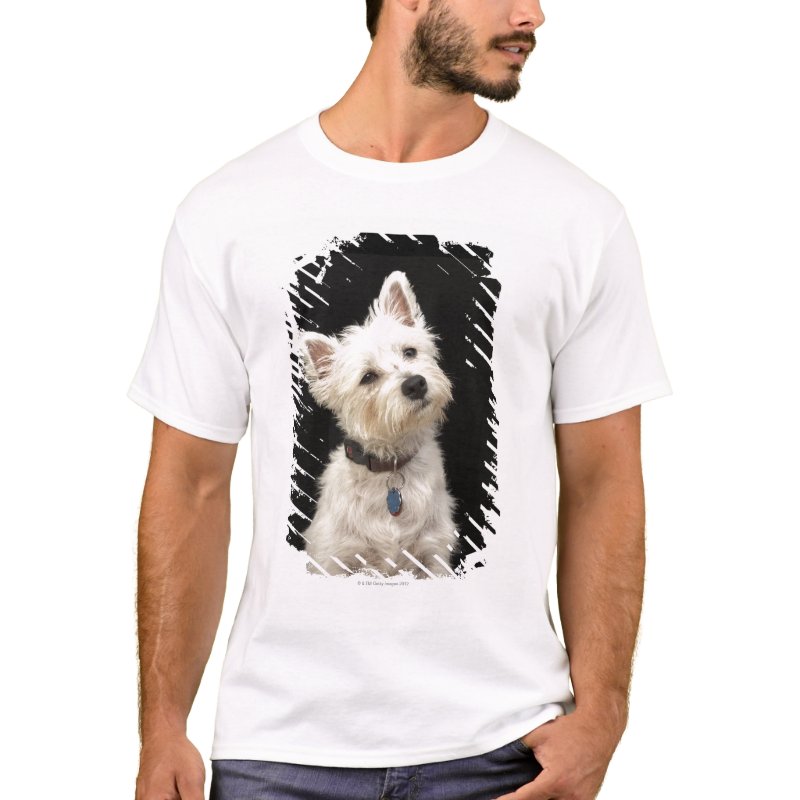 Westie (West Highland terrier) with collar
by prophoto
Westie Watch Gift Ideas
One of these watches will make a great present for a Westie lover. I like the wristwatch in the middle I'm off now to drop huge hints to my husband about him buying this for me for Christmas!
Instyles Men's Westie Dog Wrist Watch with black styling
West Highland Terrier Watch (Dog Breed Wristwatch) – Westie
West Highland Terrier Ladies Stainless Steel Italian Charms Watch
&
Metal Water Bottle with a Westie Picture
Westie Dog Mom-West Highland White Terrier Sports Water Bottle
Westie Dog Sports Water Bottle, 21 oz, White
Pretty in Pink Westie Picture Metal Water Bottle 
&
Westie Travel Mugs
These are useful gifts for anyone that loves coffe and Westies (like me!)
3d Rose Westie Travel Mug, 14-Ounce with lid
16-ounce Stainless Travel Mug – I Love My Westie
Rose Westie Travel Mug, 14-Ounce, Stainless Steel
Amazingly Lifelike Westie and Butterfly Garden Mug
I LOVE MY Westie Mug – Unique Coffee Mug
Pretty Picture of a Westie Coffee Mug, White with paw prints
&
Westie Throw Pillows
These throw pillows will look great in the homes of peole that love Westies. Only problem is the Westie will almost certainly have it as !their" pillow.
Westie Sitting Down Rainy man Pillow Cover Case 
 Tapestry Double Sided Square Throw Pillow Cover 
Blue Westie Greatest Dad Throw Pillow Case
West Highland White Terrier Dog Needlepoint Pillow
Personalized Westie Word Silhouette Throw Pillow
Westie West Highland Terrier With Collar Throw 18*18 pillow Case
&
Westie Clock Gift Ideas
These are just too cute for words. I love the clock that has a dog biscuit as the pendulum and clock hands.
Dog Westie Clock with Bone Detail
 Westie-Desk Clock, 6 by 6-Inch
Dog Lover Wall Clock – Westie Dog
&
Westie Wall Print Gift Idea
Westie Art Print Mona Lisa
Westie Art Print – Colorful Pop Art Dogs MATTED Print by Angela Bond
Portrait of a Westie
&